Thank you for visiting Celebrity DJ, Colorado Springs DJs for weddings, parties and corporate events. You can count on Celebrity DJ to bring style and elegance to your event, creating memories that will last a lifetime. From pure party to enchanted elegance, it's Your Event Your Way!

Celebrity DJ is proud to announce the addition of our 2 newest DJ's–Jake Walker and Nick Dial. Learn more about Jake and Nick!
You got engaged--CONGRATULATIONS! Now, let Celebrity DJ throw you a party celebrating this HUGE life event! In conjunction with our partners at the Colorado Wedding Gallery we cordially invite you to YOUR Engagement Party Sunday March 16, 2014 starting at 11am at the beautiful Club at Flying Horse. Learn more and RSVP by clicking here!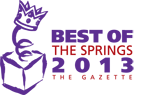 Celebrity DJ is proud to announce that, for the 3rd year in a row, we won the award in the Colorado Springs Gazette's annual Best of the Springs voting in the DJ category. A BIG THANK YOU to everyone who voted!
We're now offering coverage for your rehearsal dinner! You can find more details on this new package and all our Services.
Have questions about choosing songs for your wedding? Check out AJ's blog post over at the Garden of the Gods Club blog!
A big thanks to Stefanie Garcia from Springs Wedding Source for producing this video featuring Celebrity DJ's founder and owner AJ Carlisle discussing Celebrity DJ, who we are, what we do, and how we can make YOUR big day even more special.
View the
rest of the video series
.
Our offices are located at The Wedding Gallery, located at 1880 Dublin Blvd., Suite G, in Colorado Springs. By appointment only.

"Celebrity DJ made for, no doubt an incredible and fun filled night when celebrating a surprise 50th birthday party. Jake took any and all requests and had everyone dancing by the end of the night! We will definitely be booking Celebrity DJ for all of our future events!"
~Brittany Salgar - November 9, 2013 - Surprise 50th Birthday Party
"I have to say that Jake was AMAZING! He did so great with the crazy teenagers and was super fun to work with. He had awesome transitions into all our activities and really made the event memorable."
~Shanna Chauvin - October 19, 2013 - Surprise 15th Birthday Party
"I just wanted to say thank you for the amazing job you did at our wedding! I wasn't worried about a thing with the music. Thank you for being flexible and for making our day very special!"
~Amber O'Keefe - October 3, 2013 - Inn at Palmer Divide
"We could not have been happier with our decision to go with Dan and Celebrity DJ. Our ceremony was wonderful and Dan made the reception a blast! I will definitely seek out Celebrity DJ's services in the future should I have a need."
~Sarah and Josh Fields - September 8, 2013 - The Briarhurst
"AJ did such an amazing job at our wedding! Overall, everyone had such a great time!! We would definitely recommend Celebrity DJ to anyone who is looking for a wonderful DJ and a wonderful experience!!"
~Katherine & Josh Skinner - August 17, 2013 - Spruce Mountain Ranch
Read more testimonials...